This Easter Season let your friends and family know how much you care for them. Either by fancy cards or by simple text messages; send out your love to them on this holiday season. And If you find yourself struggling for the right words, don't worry we got that covered for you. Here are a few Easter Day Messages and Wishes that will serve the purpose. Have a look:
Easter Day Text Messages and Wishes
1- Easter Greetings!May this Easter you make best memories with your loved ones!May Lord bless you with joy and happiness.These are my heartfelt wishes for you this season.
2- May this Easter your home is filled with love and peace. Wish you a happy one!
3- Easter is true depiction of hope. And as the festive occasion approaches, I pray it fills out the whole of your heart with a true hope of joy, happiness and prosperity in this life and the other. Have a meaningful Easter!
4- May the colors of the Easter eggs pour right into your soul. Happy Easter!
5- Missing you on the Holy occasion of Easter and yes you are missing so much delicious food. But don't worry we are eating your share too. Have a wonderful Easter!
6- May Jesus shower his blessings upon you and your family.Happy Easter!
7- Let's celebrate his resurrection. For He came to this world to show us the light. Have a beautiful Easter!
8- Spring, eggs, food and fun? Yes it's that time of year again. Have a great Easter!
9- Wishing you a beautiful fun filled Easter. Have fun!
10- Easter is a remembrance of belief that miracles do happen. Just have belief. Don't rush or be disappointed. Your time will come.
Easter SMS & Text Messages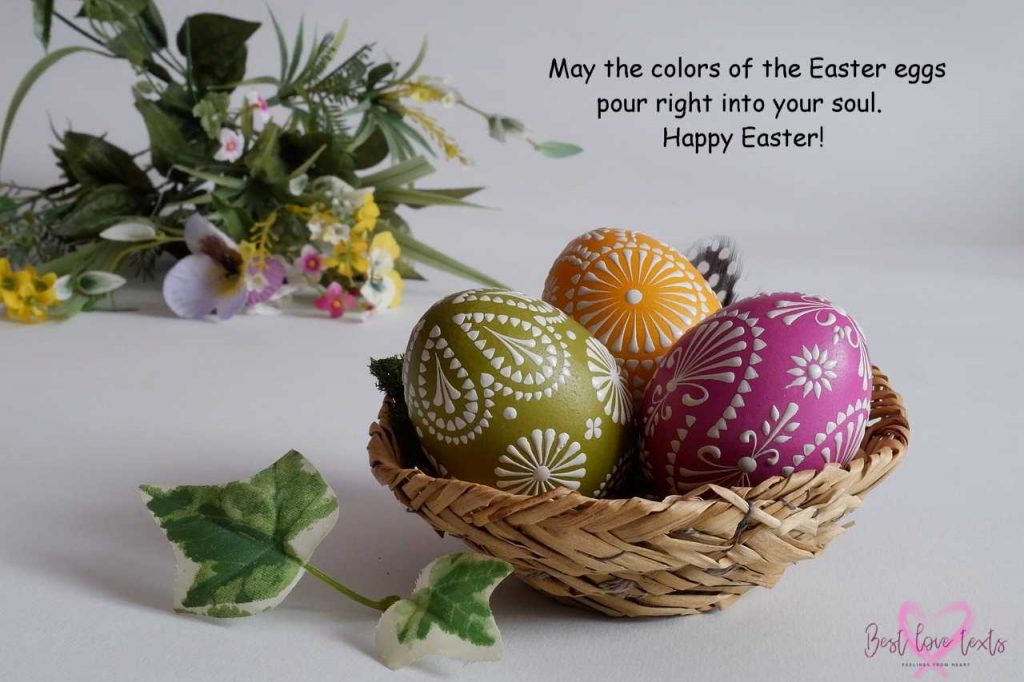 11- May this Easter basket bring you everything you have ever wished for.
12- Let your heart be glad,shout with joy and celebrate this great day.Easter is here, and so is new life and hope.Have a Blessed Easter
13- Sending you joyful hugs and kisses for this Easter. Have a blessed one!
14- May this Easter we all celebrate love, hope and family with Easter eggs and candies.
15- Enjoy this occasion with your family and try to make best memories out of this one. Happy Easter!
16- As spring comes after every winter, it reminds us of the time that bad times will soon be replaced by the good one. So don't lose heart because God has a plan for us all. So sing hallelujah and have fun this Easter!
17- Send my warmest Easter Greetings to you and your family.
18- May the angels protect you, May the sadness forgets you, May goodness surround you, And may Lord Jesus Christ always bless you, Happy Easter to you and your family!
19- Hope, forgiveness, peace and Joy! That's what Easter is all about. Hope you get all.
20- May the Easter bunny bring you the basket of happiness, love and laughter.