The birth of a baby is a truly amazing and thrilling experience, both for the new parents, but also for the friends and family. But regardless how happy you are for them, it can be difficult at times to know just what to say. It's even harder when you don't have children yourself. But don't worry, for we are here to help.
We've put together a list of wishes you can text or put on a card, ranging from funny to endearing, to make sure that when the time comes, you're not left with nothing to say.
New Baby Messages and Wishes
1- Congratulations on the birth of your new son/daughter. And you thought the pregnancy weight would be the hard part… Don't worry, I'll come round and babysit, though I've always considered it bad manners to sit on babies, but still… What? Too soon? Fine, all joking aside, just wanted to tell you guys how thrilled I am for you two!
2- I've watched you grow from girl to woman and from woman now to mother. Knowing you, I think it will be a role that will suit you well. I couldn't think of someone kinder, wiser or more loving than you and that kid is lucky to have a mom like you. Congratulations, my dear!
3- That baby's life is already off to a good start, to have been born to two people as sweet and loving as you two are. I hope parenthood brings you days full of joy, love and laughter. A thousand congratulations to you!
4- There's no greater blessing than a child. I hope little [Baby's Name] brings you nothing but happiness and good times. You make a wonderful, beautiful family and I am over the moon with joy for you! Congrats!
5- What wonderful news! I'm so happy to hear your baby boy/girl has arrived safely and please do not hesitate to ask if you need any help. This is such a wonderful time. Blessings!
New Baby Congratulations Messages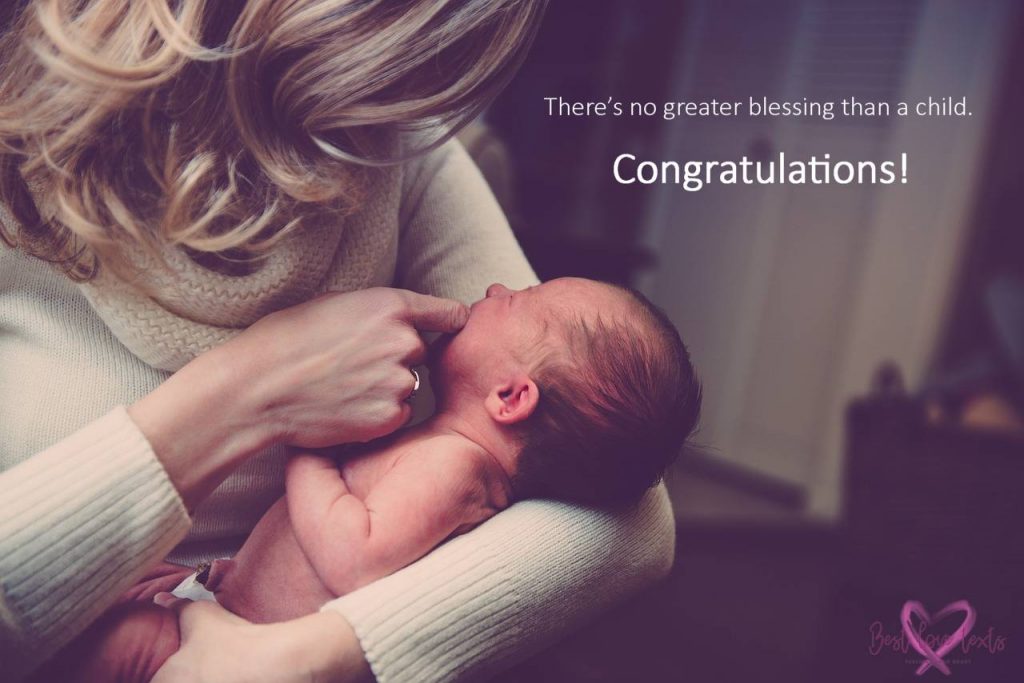 6- You know I already love you to bits, but parenthood molds you into an even better version of yourself, for you grow with the love and support that you give your child. You grow as you see them succeed in like, and even more when you see them smile. Congratulations on your miracle and may he/she bring you all the joy in the world. Congratulations!
7- This is such an exciting time. I was just sitting down to write your 18th birthday card, I can't believe I'm now writing about babies and helping you pick out maternity clothes. This baby will be lucky to have you two as parents (almost as lucky as you will be to have a beautiful, new baby). You know I'm always here if you need me. I love you and am so happy for you!
8- I am so thrilled to hear you are having a baby. I just know there are some wonderful times ahead, that you will make a beautiful family and that your house will always glow with warmth and love. Congratulations, my favorite parents-to-be!
9- This baby will bring joy and love into a household that was already joyful and loving. This baby will have wonderful, kind parents. This baby will grow up to be generous and wise. Congratulations on this baby! Words cannot express how happy I am for you two!
10- I've never really known what a baby inherits from whom, but I just know this baby will be amazing. You are both kind, caring, loving and wise. You are the most wonderful couple that I know and this baby will definitely be the most wonderful baby that I know. Hooray for your new baby and a thousand congratulations to you two!