Because a wedding is a unique moment that is supposed to happen only once in life, let your loved ones who marry now know how happy you are.
All our wishes are prepared exclusively for you, and are one of a kind. Because you will not express yourself in the same way depending on your relationships with the bride and groom, use our database and find the best wishes!
Marriage Wishes for couples, Congratulations Messages for Marriage
1- All our wishes of happiness accompany you on this wonderful day. May your wedding be as radiant as the sun which lights up this beautiful day!
2- Today the family is growing. Your wedding will forever be an important day for you and our family. Congratulations!
3- Unfortunately, we cannot be with you for this highlight of your life, but all our thoughts are with you. We wish you all our best wishes. Congratulations and have fun!
4- The day we say "yes" is forever etched. For us, "yes" you are beautiful, "yes" you are great, "yes" we love you, "yes" we are super happy for you, "yes" we want to party, "yes" we will always be there for you, "yes" we wish you all the happiness in the world!
5- Rainy wedding, happy wedding! Even if the weather is not forecast in the best light, we wish you all the happiness in the world and all our congratulations for your union.
6- We thank you very much for your invitation and regret that we cannot honor it. We send you all our wishes of happiness and wish you to enjoy this beautiful day with your loved ones!
7- Your marriage inspires and uplifts everyone present today. Congratulations with all our wishes of happiness!
8- Congratulations for your marriage! We wish you much happiness throughout your life. May the strength of your love make this winding path as peaceful as possible!
9- We are so proud to accompany you for your wedding and to share this precious and intense moment of your life. We wish you much happiness!
10- All our wishes of happiness accompany you for your wedding. We also extend our congratulations to your parents. have a very nice day!
Words of Congratulations for a Wedding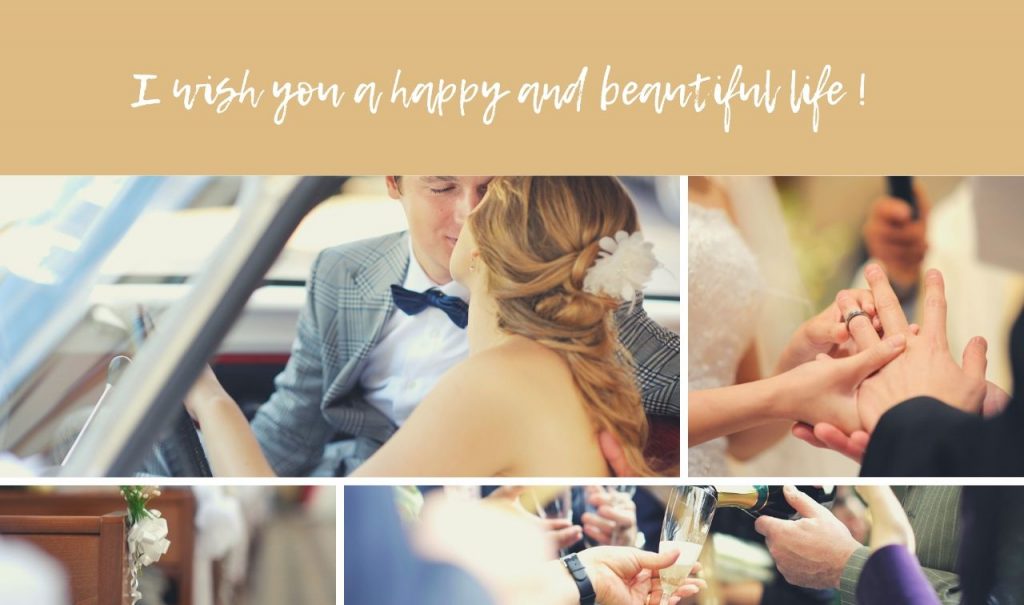 11- The main theme of this day is "Shared Love". The love you have for each other but also the love that all your friends and family have for you. Congratulations on this beautiful union of souls.
12- May this beautiful day reflect your future life: magnificent, amazing and full of surprises and laughter. Congratulations on this charming day!
13- The 4 pillars of the couple: Love, listening, patience and support! Since the time that I know you I can affirm that you have created beautiful foundations in your house of happiness. Congratulations to you two !
14- You looked yourself in the eyes and in the heart. You said "Yes" and the "Forever" started. Love yourself, adore yourself and pamper yourself … Congratulations on this beautiful and emotional day.
15- May this day surround you with its beauty, warm you up with memories and fill your life with very special happiness.
16- Let your marriage be like your alliances: An endless circle of gold and at its heart a vision towards the horizon. Congratulations.
17- From this day on, you will be teammates to go and discover a beautiful thing called Life. I wish you to fulfill your dreams together, to develop your bond even more and to be still as united as today.
18- I was lucky to witness the birth of your love. I saw it grow and I saw all the bond, the joy and the happiness that you both have. This day is the summary of your love: beautiful, beautiful, and full of surprises.
19- On this day I wish to remind you of all the love I have for you. Seeing you together on such a magnificent day warmed the hearts of all the guests. A magical moment. Congratulations to you two.
20- There is one very precious thing that you must give each other: love! As long as it is warm in your heart, your happiness will be eternal. Congratulations on your beautiful wedding!
Wedding Wishes for couples – Congratulations Messages for Marriage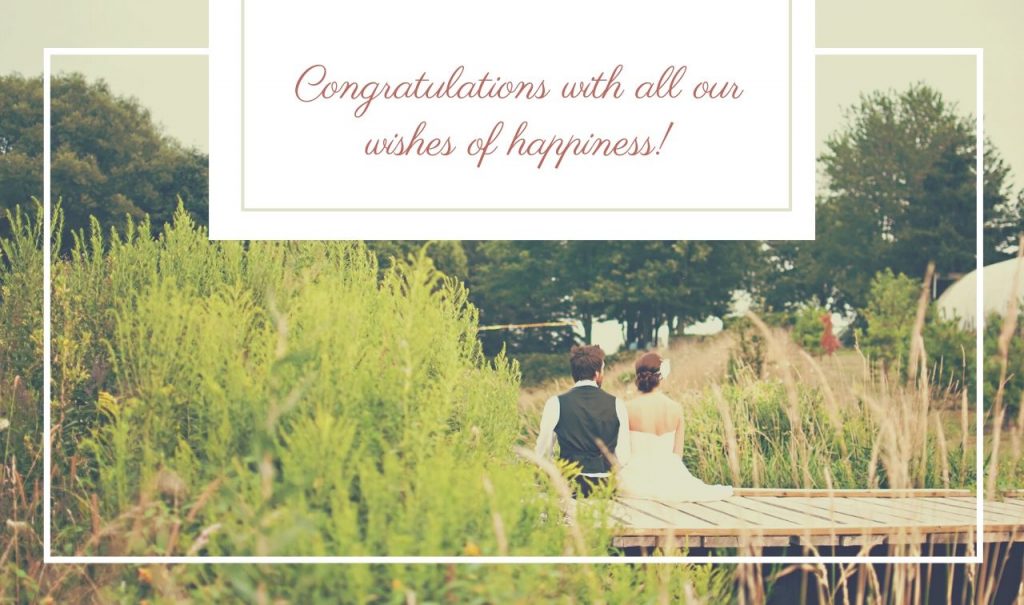 21- The spark and the chemistry between the two of you is incredible. It feels tens of kilometers away … How do you do it ?! I wish you all my best wishes.
22- An amazing person + an incredible person = an extraordinary love! Bravo for this beautiful wedding!
23- May each day of your life be the first day of your wedding! All my best wishes !
24- Two bright and sparkling people have come together. The fusion is dazzling. Congratulations!
25- It's like looking at a summer sky! I was fortunate today to witness something beautiful that will forever mark my memory. Thank you for this wonderful moment!
26- Congratulations! Today, because of you, I cried a lot !!! But rest assured, I cried with joy and happiness to see you so beautiful and so in love! It was a perfect day in every way. I only blame you for one thing: that my makeup did not hold!
27- Your wedding day is a wonderful day but also a day when we receive many advices. In reality only two people will know what is best for your union to be perfect: You. Years and experience will help you find your way together. I wish you a happy and beautiful life!
28- Hear the wisdom of a man who has been married for 3 years! I will give you the recipe for a happy marriage … In fact, nobody knows it since it is different for each couple! The most important thing is to love each other and know how to stay young together
29- It is with great emotion and pride that I saw your couple form, love, flourish and finally say yes to God. Your happiness is a pleasure to see and you are both radiant. May this happiness be yours for life!
30- Our wishes of happiness accompany you on this day.We wish you to love yourself always,To savor the joys of existence together,While remaining united in difficulty.