When you cannot congratulate the young graduate straight away, why not send him a card to make a mark ? This is a personal attention that will undoubtedly be appreciated by its recipient. We have therefore imagined texts to congratulate the winner, that you will adapt according to the relationship you have with the student.
A friend, a loved one, your son, your daughter has just passed an exam and you are really happy to hear this good news! You now want to say a big congratulation for this new step.
Hard work always deserves warm and friendly words of recognition. But how to transcribe this joy by text and how to tell your friend or child that you are proud of him.
It is time to encourage them to continue their efforts so that they can access the career of their dreams.
Here are several models of sms following a diploma, but also following the success of a sports feat, or obtaining a promotion.
Congratulatory SMS for success or graduation
1- Congratulations ! I'm really proud of you! You deserve it amply. I hope we will celebrate this together soon!
2- What good news! You graduated! May the future bring you even more success.
3- Congratulations! Perseverance and work, it always pays! I wish you the best for the future.
4- New excitements are waiting for you: A new beginning, a new challenge, a new project … but for the moment I send you all my congratulations for your success! you deserved it.
5- Congratulations ! I knew that if a person could get there it was you! You deserve it !
6- Congratulations and may the success of today announce the great achievements of tomorrow! Congratulations again!
7- Your diploma is not just a piece of paper, it is the wings that will allow you to fly to a promising future and guide you to the path of success! Congratulations!
8- Congratulations today and we wish you all the best for all your tomorrows!
9- I say congratulations for your graduation but also congratulations for becoming today the master of your own destiny!
10- Congratulations! I'm sure it will not be the last time I could say I'm very proud of you!
11- Congratulations! When I see the road traveled and all the work that you have provided for so many years, I have only one thing to say: it is deserved!
Text Message Ideas to say Congratulations to someone for their success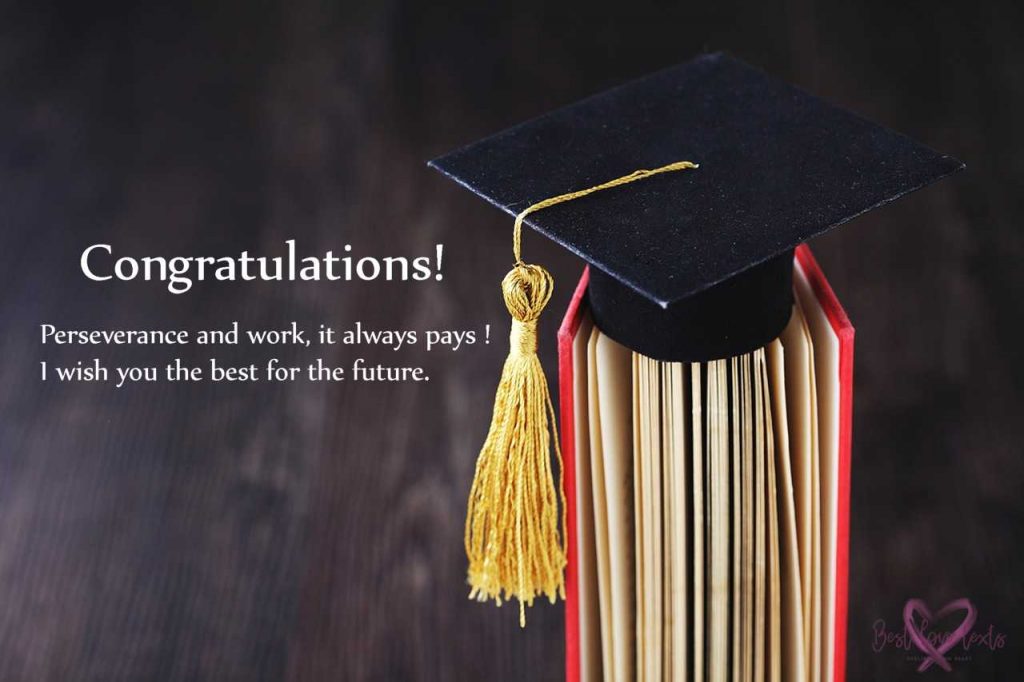 Text message to congratulate a person after graduation
Psychological preparation, intense and difficult revisions
A difficult exam passed with courage and without ever giving up
And at the end of the road, your efforts: a beautiful reward is offered to you
Success, joy and a diploma. Receive my congratulations.
Message to congratulate someone who has passed a contest
Hundreds of motivated and determined candidates and in the middle: you
Motivation to all tests, success at your fingertips
Congratulations ! You have never given up on difficulty and stress
Today we share your joy … We shower you with tenderness.
Text messages on or baccalaureate or college certificate
Your efforts by this degree are rewarded
Exam results are a gift to the student that you are
Learning and understanding require a lot of wisdom and patience
The baccalaureate in your pocket opens you to a thousand promises, a thousand and one sciences
This college certificate is a promise for the future of your studies, a chance.
I have just read the results of the baccalaureate (results of the college certificate or another diploma). What was my joy for you when I saw that you had graduated. I am sincerely very happy for you and I wish you a good continuation in your student life in order to succeed all your projects and to reach your professional objective. Congratulations, friend!
Text messages to congratulate a student who has just graduated from parents
Life is this: it rewards one day those who do not get discouraged and who fight despite the difficulty of the test. Congratulations to my child for his success in the baccalaureate! My daughter, I love you with all my heart. Me your mom (your dad or your parents) I'm so proud of you. Obtaining your baccalaureate covers me with happiness and reassures me about your future! Your parents congratulate you and have great confidence in you for the future! We love you …
Congratulations, my child, for your success! This Graduation is a first step in a student's life that makes him a promising student. During this school year you worked well and you knew how to implement all your academic and professional qualities. Your father and your mother, your parents, are very proud of you and wish you to continue in the same dynamic.
Congratulatory message for the baccalaureate from a friend
I wish you all the best for winning a contest as difficult as the one you have spent with great courage and perseverance. This success in a competition opens up professional perspectives that will allow you to fully develop in a project that you love and that suits you.
I learned that you had passed your exam and that you had even succeeded
Congratulations for this great success!
You will finally be able to enter the world of work or continue your studies, as you feel
Further congratulations!
Good luck for the rest … Your friend proud of you!