Enjoy your wonderful new home ! Hoping that happiness is moving with you. There is nothing like a cozy little fireplace!
Your friends have just moved out and are looking for a text to wish them a good move or just to congratulate them.
You do not know how to congratulate your friends or relatives for the purchase of their new house or apartment ? You are on the right page! We offer many texts to send by sms or to write on a greeting card.
These phrases will also be perfectly adapted to accompany your card and your house warming gifts in your new homes.
You will find original texts, more poetic texts and fun texts to tell your friends " welcome to your new home ".
New House Congratulations SMS
1- The house is a seed of life or develops small flowers called friendship, children and happy memories. Good housewarming and especially good move.
2- A house that has been covered with the walls of love, trust will need no other decoration. Congratulations for your new home.
3- A house is the only place in the world where the spirit 'the body and the heart can find refuge. Enjoy your new house!
4- May happiness, joy and love be with you!
5- Wish that your little family and you can enjoy many happy moments in your new apartment.
6- New country!
New city
New neighborhood!
*New address!
New house!
Congratulations !
7- " Home sweet home " congratulations , you finally moved to your new house !So happy for you . Enjoy
8- Every king and queen needs a big castle. Congratulations for getting yours!
9- Ah … finally a place where we will celebrate! Congratulations for your new apartment.
10- Your new home must be beautiful, amazing and trendy .. just like you. Congratulations for your new home
11- I wish happiness, joy and love to move with you! These three roommates should make your life much more cheerful!
12- Welcome home! May this house bring you happiness and joy.
13- A new house, a new setting and a new life! May happiness and luck be yours ?
14- All my best wishes for a peaceful life in your new house ! Congratulations.
15- You deserve this beautiful house you have always dreamt of .May all your dreams
Short messages to say congratulations for a new house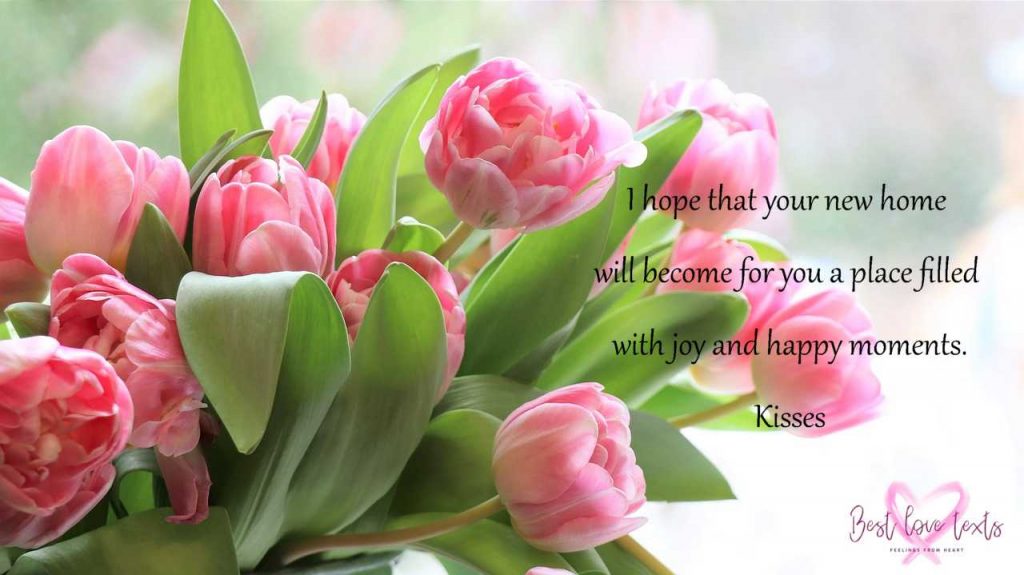 1- You are now in the house you have always dreamed of.
A beautiful house, which I am sure will become an unforgettable place, filled with happiness and good humor.
See you soon
2- I hope that your new home will become for you a place filled with joy and happy moments.
Kisses
3- Warm wishes so that your new home contributes to your happiness by meeting all your expectations.
Wish also that your immediate neighbors are people as friendly as you!
4- A new home like yours certainly makes life more enjoyable!
But what makes pleasant above all this new home for others …
… it is you who live it.
5- New Joys !
Few quarrels!
That's my ambition!
For your new home!