These poems are short, but in meaning they are longer, the quantity of love and care go beyond all expectations!
15 Amazing little poems to express your love to your mom on a Mother's Day.
1- For you dear mom
You gave me confidence
With your love words
You taught me bravery
With your velvet tenderness.
2- You are my gift from heaven
Protectress by your love
You are true love with the flavor of honey
You are the relationship that lasts forever.
3- Your kisses are keys to happiness
Evidence of love from the heart.
To be your child is to live in the light.
My mom of you I am so proud.
4- You sacrificed your life as a woman in my honor
Without blaming me, without complaining about your work
You are true love, embodied humanity
You have been a paradise on earth since I was born.
5- You forgave me for my mistakes
While remaining yourself
You kept me in your heart
Sincerely, like an emblem
6- You cared about my misfortunes
You found solutions to my problems
You have relieved my pains and sorrows
Hugging your heart
7- For Mom
I have hands to touch you
I have arms to hold you
Feet to run towards you
To call you I have my voice
And then I still have my heart
To love you ever stronger
8- Happy Mother's Day to the sweetest of women
My mother ! I love you with all my heart
Happy mother's day to the most beautiful of ladies.
My loving Mom who made me happy.
9- You know how to unlock my secrets,
You know the words to console me,
You know how to make me smile, make me sing,
I'm so happy to have you by my side,
For all life and for eternity …
10- You are my adored Mom
Moms are priceless diamonds
For the child the greatest of treasures
Mothers are women with a heart of gold
In their families, essential people.
Mother's Day Poems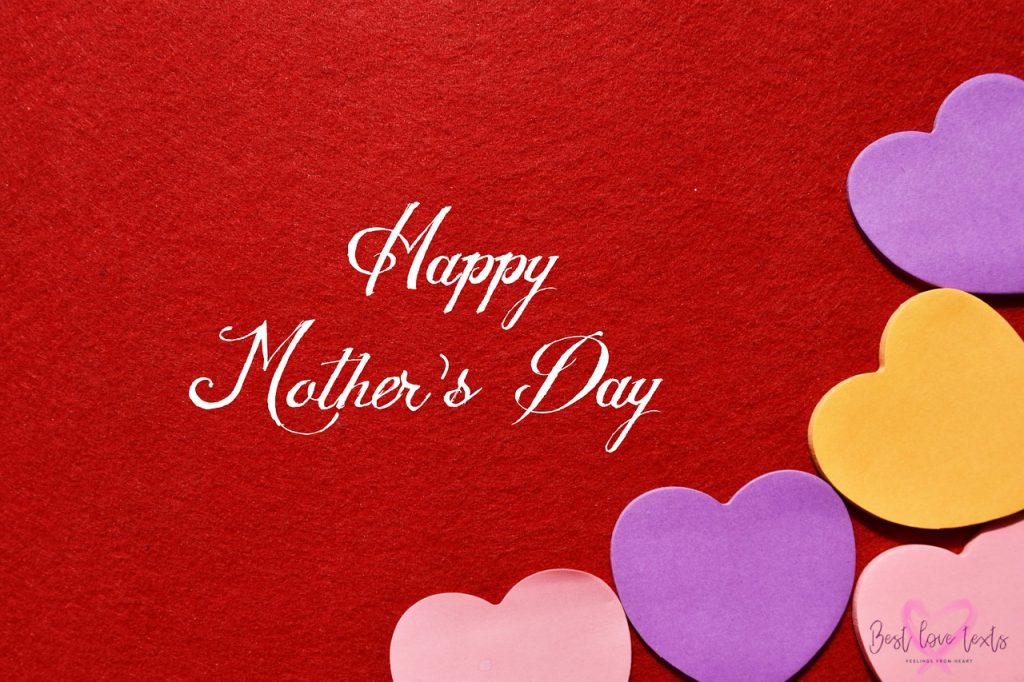 11- Nothing can match maternal love
It's a sweet gift from heaven
Nothing can replace a mother
She is a path made of light.
12- I wish all mothers a happy birthday
Without them there is no life and love on earth
Best wishes to all mothers
They are a gift of life for their children.
13- A constant affection and attention
Oh yes ! Nothing can replace a Mom
Happy Mother's Day to all the mothers in the world
In our hearts, for you True Love rumbles.
14- You have always sailed on the waves of my life.
You are my wonderful sea, calm and peaceful sea.
Together we went through good weather and sometimes rain.
Our family trip was marked by some bad weather,
But love has warmed and sunny our loving hearts.
With you, I shared my best years.
Best wishes My Mom I love you very much.
You are the most beautiful diamond in my life.
15- Thank you my lovely and dear Mom
You are so beautiful and kind
A holy coming from paradise
I owe you everything, I owe you life
I want you happy all the time
May life bring you a thousand happiness
Good health and prosperity
Joy and tranquility.
16- I am your child,
I am the fruit of your love
I am of your blood,
Born to always love you
How you loved me every day.
You rocked my childhood,
You filled my heart with hope
Having a mother is a chance
My best luck .