The scariest Halloween text messages ever.
October 31st is an exciting occasion to make crazy wishes for Halloween. Everyone is fast running to find the scariest messages that impress the readers.
You are short in ideas for sending your wishes to your friends, lovers, and family .You are looking for something special! something that makes the one who reads your message tremble from fear; so don't go away before you read our selection of SMS and texts, they really target what you are looking for.
Halloween requires the most scary words and descriptions; otherwise, it loses its value. In this selection, we tried hard to use the most necessary words as a spice of Halloween.
30 SMS to wish a spooky Halloween
1- Night ghosts will caress you together with the bloodiest vampire from neck to toes by midnight .Enjoy!
2- Wish you the craziest Halloween .May you get lots of treats? BOO…
3- Hope you will meet the scariest ghost this night of Halloween .Have fun!
4- The dark witch is preparing the cutest costume for you to make of you the most horrible ghost, ever!
5- Have the spookiest Halloween night ever!
6- Hi, this is Mark`s scary skeleton heading to hug you. wait!
7- I wish you a hair-raising night with lots of creepy crawlies. Spooky Halloween!
8- Wish you a Spine- chilling night. Enjoy your Halloween.
9- Someone send me a video of a strange thing dancing in a bedroom, the scariest thing is that, it is your bedroom !
10- Hello, this is GROULA.I passed away ten years ago but want to come back and live with you .Scary! Isn't it ?
11- Don't think I am your friend, he is dead, and I am using his phone to get your address. join you in a couple of seconds. It's Halloween.
12- Each Halloween you meet a hundred of persons there are two ghosts and I am one.
13- A little girl got lost in the forest she will appear in the mirror when you finish reading this message on this night of Halloween.
14- I want to taste your blood this night of Halloween. Dracula!
15- A pair of Devil`s terrifying gloves with fluffy dark hair and a blue lipstick, this is my present for you in this night of Halloween. Your little witch Eva. Happy Halloween.
Don't tremble with fear, there is more and more to freak you out on Halloween…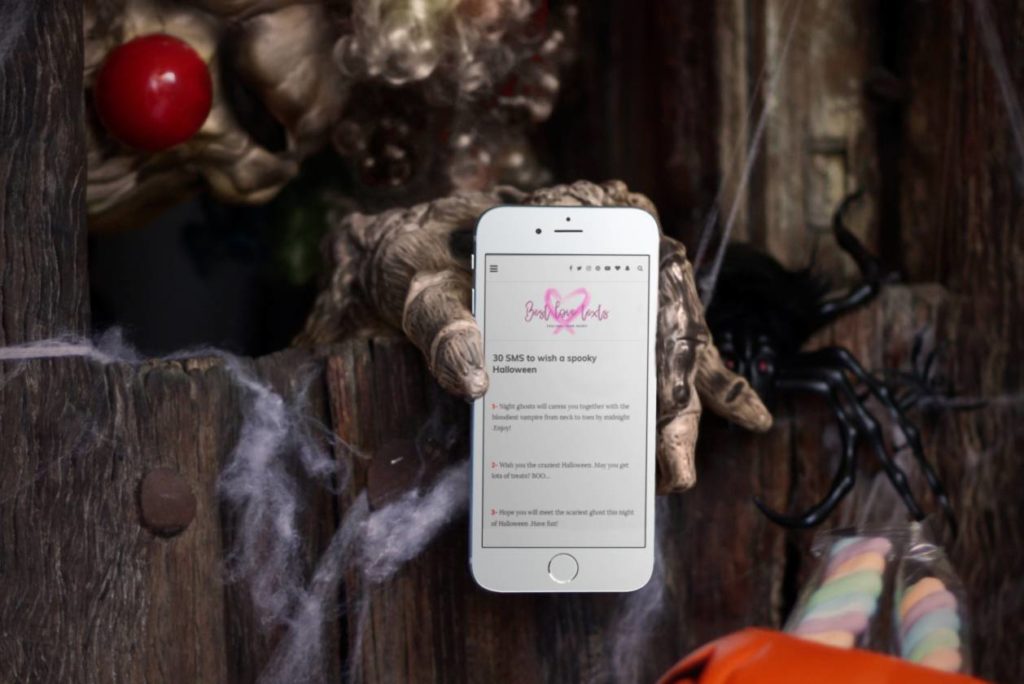 16- The lights should be kept on this night ghosts enjoy darkness. Creepy Halloween.
17- It`s time to have a wild and spooky Halloween. Open the door.
18- Ghosts never miss this night beware! . Boo. Happy Halloween.
19- Vampires do not approach garlic; don't forget to get some, in case of a midnight visit. Scary Halloween.
20- Have the most terrifying Halloween night with lots of tickles from here and there.
21- Little ghosts might come to little boys on this Halloween.
22- The dark skeleton is back knocking at the door. Have a great Halloween.
23- Everyone is scared on this night aren't you? Enjoy your Halloween and beware.
24- Last Halloween drove you crazy, but this year just pray for God`s blessings.
25- Wish you a Halloween full of treats and tricks. Enjoy this Halloween.
26- Who says BOO
Me
BOOOOOOOOOO.
27- Tricks or treats?
Well! Have you forgotten?
It's Halloween!
28- I hope you are well prepared because the monsters arrive.
29- Come and visit me; I will make you my famous paw-shaped paw with slug slime sauce.
30- Fly high this night of Halloween and embrace white ghosts in the skies.