Happy or scary Holloween messages to write in a card.
While the overwhelming majority enjoys sending scary SMS on Halloween others prefer sending cards , with a mixture of funny and scary wishes for their friends and families. Here we prepared 10 texts to help you.
Go through and choose the suitable one.
10 texts to wish a happy and scary Halloween
1 – Watch out for the witches, Halloween is their favorite night, a night they wait for the 364 nights preceding it ….
If you meet a witch during the Halloween night, it is likely some days after a third leg pushes you, and an eye opens behind your head.
Do not worry, it's Halloween!
2 – Do not forget that the pumpkins you see in the street are not for eating.
Happy Halloween.
3 – Witches, vampires, zombies, pumpkins, Frankenstein, Dracula's, Adams families, skeletons, pirates, werewolves ………
In short, everything is ready for Halloween,
We are waiting for you!
4 – ouups!!!
You should not open this card, a ghost has just escaped!
Now, if at night you have someone who scratches your feet, you will know who it is
Boooooooooooo ….
5 – It's Halloween, a boon for us, Witches, Elfs and Goblins! Finally a day where we can walk in the open air without having to disguise ourselves as humans. Finally I'm going to wear my sublime black dress with my pointed hat and ride my broom to spend the evening in your arms.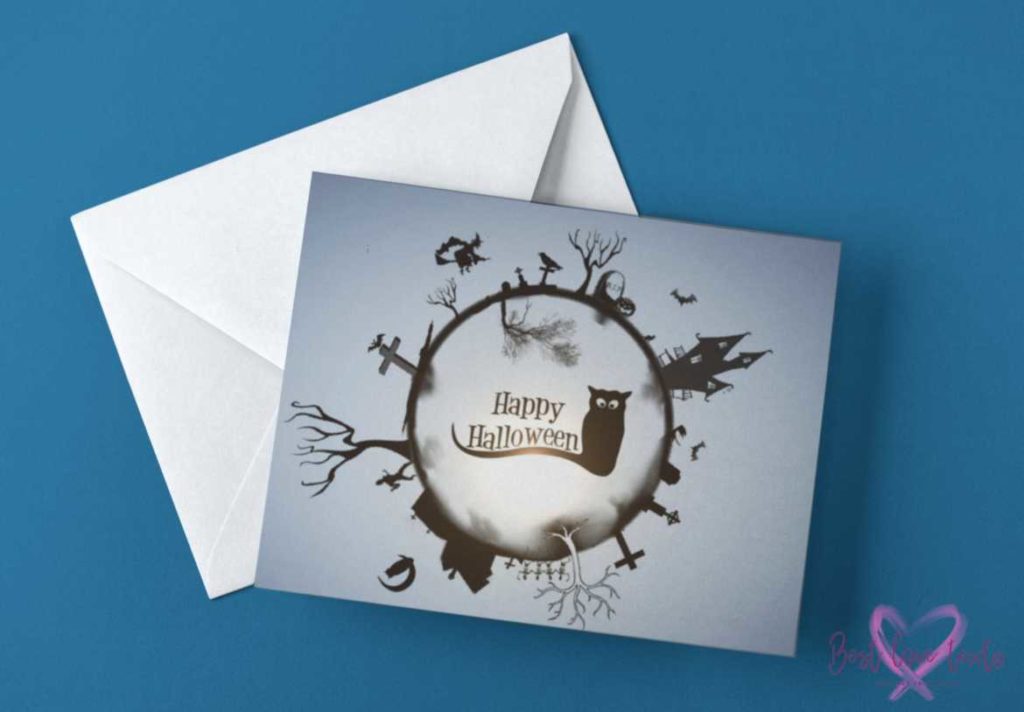 6 – " My dear, I know you love to disguise yourself, and even more when it comes to looking like a monster! So enjoy your Halloween party. When you have walked around the neighborhood and you have collected mountains of candy, think not to eat all of a sudden otherwise your little belly will shout mischief!
I send you kisses, spider webs and wish you a horrifying Halloween "
7 –  Even if I do not believe in ghosts, I am afraid of, as the woman of literature
Marie du Deffand said
Happy Halloween
8 – " Living in a nudist camp will probably ruin all the fun you expect from Halloween "
Happy Halloween party
9 – Surprise!
Here is a card for Halloween!
It is not to wish you a good Halloween party because it is not especially, what inspires! It is merely a pretext to send you an autumnal hello.
Hope that all is well on your side, and especially for your health
Kiss, and see you soon
10 – " My owl having put a strike these days, I am obliged to use the postal services to send you this little missive. I just wanted to wish you a happy Halloween and send you my most kisses. "