Valentine's Day is approaching! Find here a unique statement to write on a beautiful card to your sweetheart. A selection of texts written especially for Valentine's Day to declare your love, to express your feelings of love and to wish a happy valentine's day to your love.
Up to you to choose the text that suits you! Happy Valentine's Day for all.
The happiness of being with you!
My love, with you I know happiness, the beauty of life and the joy of living! With you I understand the feeling of loving which is comparable to any other .You have fallen on my way like an angel and I am in your grip since then, and I have no desire to get out! For this Valentine's Day I wish for both of us a happy feast of lovers.
I love you and I can't live without you
Happy Valentine's Day sweetheart! On this exceptional day, I want to write a few words to tell you how much I love you, and how much you mean to me, and to tell you also that I can bear losing anything but not you! You are my reason to live and the source of my happiness.
Looking forward to this day impatiently
I will never forget the valentine s Day that am looking forward to celebrate our beautiful story and to remember all those happy moments that we had together. I hope that the future holds more beautiful things for us because one thing is sure; everyday day that passes my feelings for you becomes stronger and stronger .I love you darling! Happy Valentine's Day darling.
Those wonderful moment with you
My love, I fell under your spell and since then I don't stop loving you. Next to you I feel completely myself. On Valentine's Day I would like to remember with you all those wonderful moments we spent together and hope that the future will bring more happiness! Happy Valentine's Day my love.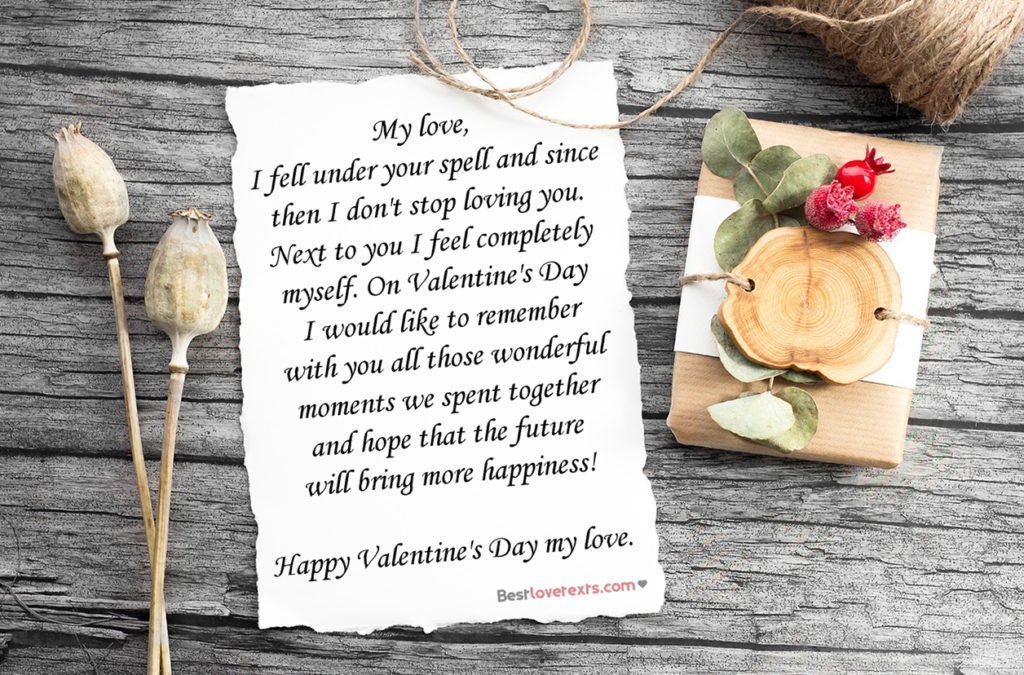 Happy Valentine's Day
May this day bring you a lot of joy and happiness and keep our love intact facing all challenges of life? I want to fill your heart with love and fulfill all your dreams .My love you deserve the most wonderful things; I offer you a blue sky and flowers with thousands of scents! Happy Valentine's Day.
True love
True love is the one that lasts even after many years of being together and despite the difficulties of life; like us my love after all those years together we are celebrating today our beautiful love story! Happy Valentine's Day love.
Our beautiful story
You and I are a nice and endless story! You and I are love passion! A thirst for beautiful moments! You and I are tenderness and affection without limit. I hope that the future holds beautiful things for us and that our love passion protects us against the storms of life! Happy Valentine's Day sweetheart.